GROUP EXERCISE
At the Y, we provide more than just a state-of-the-art fitness center and exercise studios, we are focused on the health and well-being of each of our members and strive to provide you with the tools you need to maintain a healthy lifestyle.
When it comes to group exercise, we have a variety of options.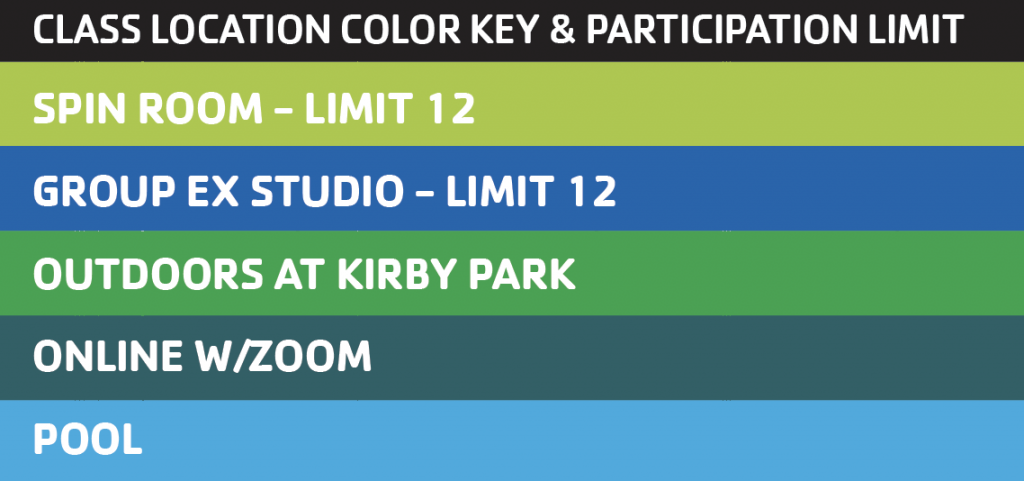 ---
AT-HOME FITNESS

A great mix of at-home workouts with our Y instructors, free group ex videos courtesy of a special partnerships and links to all our Facebook group ex group pages. See the schedule here.
---
OUTDOOR FITNESS

Get outside and enjoy the fresh air with our Y instructors! We offer a wide variety of classes such as Zumba, Yoga, Bootcamp and more! All outdoor classes are conveniently located at the River Commons and Kirby Park. See the schedule here & reserve your spot.
---
IN-CLUB FITNESS

Our indoor Group Exercise Studio and Spin Room are both open for member use of scheduled class beginning Monday, June 22. See class policies and descriptions.
---
FULL SCHEDULE FOR JULY 2020
This schedule features all current classes. Locations and class size limitations are listed with each class.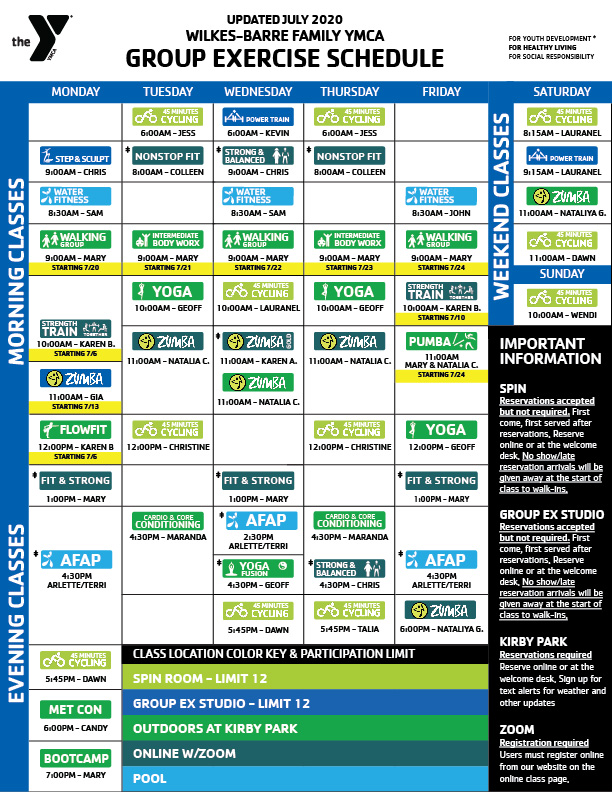 Text Alerts
Text FILLMEIN to 84483 to receive Facility alerts.
Text WBYCW to 84483 to receive Child Watch alerts.
Text OUTDOOREX to 84483 to receive Outdoor Goup Exercise alerts.
Text GROUPEX to 84483 to receive Indoor Group Exercise alerts.
Text YGYMS to 84483 to receive Gym Alerts alerts.
Text YCHILDCARE to 84483 to receive Childcare alerts.
Text WBFAM to 84483 to receive Youth and Family Programming alerts.
Text WBKIDS to 84483 to receive School Age Child Care alerts.
Text YTEEN to 84483 to receive Teen Programming alerts.
Text YMCAOFF to 84483 to receive Summer O.F.F. alerts.
Text YCKDAY to 84483 to receive Day Camp alerts.
Text YCKOVERNIGHT to 84483 to receive Overnight Camp alerts.
Text YCKFAMILIES to 84483 to receive YCK Families alerts.
Text POOLALERTS to 84483 to receive Mericle Pool alerts.
Text WBYST to 84483 to receive WBY Swim Team alerts.