GROUP EXERCISE
At the Y, we provide more than just a state-of-the-art fitness center and exercise studios, we are focused on the health and well-being of each of our members and strive to provide you with the tools you need to maintain a healthy lifestyle.
When it comes to group exercise, we have a variety of options.
---
AT-HOME FITNESS

A great mix of at-home workouts with our Y instructors, free group ex videos courtesy of a special partnerships and links to all our Facebook group ex group pages. See the schedule here.
---
IN-CLUB FITNESS

We're dedicated to providing as many opportunities to help you stay active, healthy and social as possible. We can benefit from the power of group exercise with social distance in small masked groups and limited classes. See the schedule here & reserve your spot
---
OUTDOOR FITNESS

Get outside and enjoy the fresh air with our Y instructors! We offer a wide variety of classes such as Zumba, Yoga, Bootcamp and more! All outdoor classes are conveniently located at the River Commons and Kirby Park. See the schedule here & reserve your spot.
---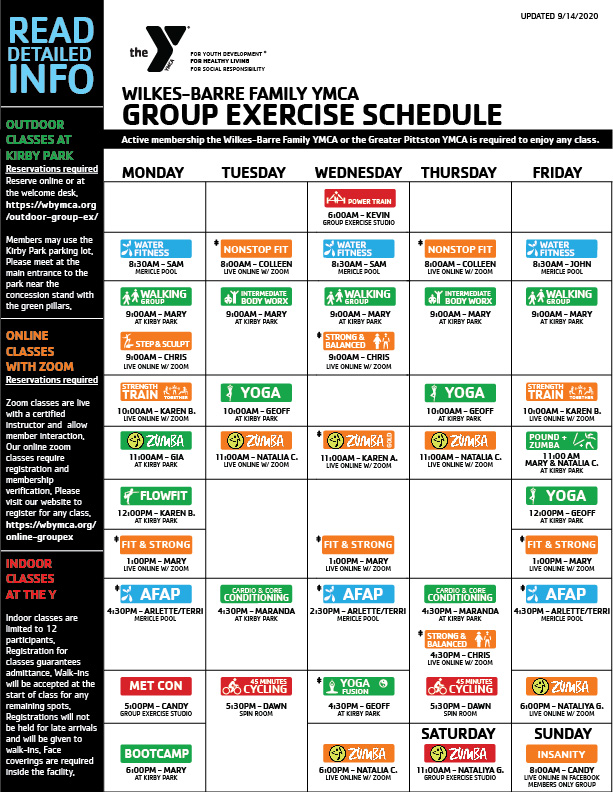 ---
CLASS DESCRIPTIONS
AFAP – ARTHRITIS FOUNDATION AQUATIC PROGRAM Led by a certified AFAP instructor, this class uses the water's buoyancy to reduce the impact on joints allowing those with arthritis to enjoy a workout. Classes can help improve cardiovascular fitness, balance and range of motion. FREE to those 50+ thanks to a sponsorship by the Area Agency on Aging Prime Time Health Program! Copilot Membership Required

BodyWorx This class will offer cardio, strength, range of motion and stability! Learn to use body weight with angles and repetition to strengthen and stabilize your body. Classes range from 30, 45 and 60 minutes depending on the instructors workout plan for the day.

Cardio & Core Conditioning A sports-inspired cardio class which combines simple athletic movements with strength and stabilization exercises. Simple doesn't mean easy, it just means not complicated. Lots of body weight exercises combined to help you shed fat, increase speed, become more agile and jump higher. Plus bonus killer core round!

Fit & Strong Fit & Strong is a multi-component physical activity program for older adults. This program targets older adults with osteoarthritis and has demonstrated significant functional and physical activity improvements in this population. Copilot Membership Required

FlowFit Build flexibility and strength. A beautiful class set to music with flowing movements of yoga, pilates and tai chi followed by an optional meditation and relaxation session.

Insanity An exercise program involving bodyweight exercises and high-intensity interval training. Insanity workouts can be catered to all fitness levels.

METCON is metabolic conditioning via High Intensity Interval Training (HIIT). This is an intense class designed to maximize calorie burn and increase stamina.

NonStop Fit This strength training program is ideal for older adults. Rebuild strength that's been lost through the aging process and help ease arthritic pain that's associated with aging bodies. FREE to those 50+ thanks to a sponsorship by the Area Agency on Aging Prime Time Health Program! Copilot Membership Required

POUND + ZUMBA This ultimate mash-up class combines your inner rock star and dancer into one amazing workout. The fun and sassy dance moves you love from Zumba meet the full body cardio-jam session inspired by the infectious, energizing, and sweat-dripping fun of playing the drums. Join Mary & Natalia as the duo "duals" it out!

Power Train This weight lifting class is a must add to everyone's class routine. Designed to increase strength and muscular endurance with the use of free weights, plate loaded barbells and more. Shape, tone and sculpt your body. Get the strength needed for everyday life.

Step & Sculpt Movements performed on and off of step platform, with or without risers. Class consists of basic step patterns for the new stepper and options for the more advance participant. Intensity level is determined by speed, travel, and execution of movement. Increase your cardiovascular strength and endurance.

Strength Train Together Blast your muscles with a high-rep weight training workout. Using an adjustable barbell, weight plates and body weight, this workout combines squats, lunges, presses and curls, with functional integrated exercises. Dynamic music will get your heart rate up, make you sweat and push you to a personal best.

Strong & Balanced Enhance your muscle strength, flexibility and balance! This cardio class combines movement and wrist/ankle weights (chair optional). This is a beginner/intermediate class. Copilot Membership Required

Walking Group Open to all fitness levels! Join Mary, our certified Walking instructor at Kirby Park and walk for fun a fitness. All participants are encouraged to walk at their own pace and rest when needed. Mary will help walkers find their pace and increase speed and distance over time.

Water Fitness A low impact fun and invigorating way to exercise! Most classes are conducted in the shallow end of the pool and enhanced by music. Each class is designed to stretch and tone muscles, promote cardiovascular fitness, reduce stress, improve physical appearance, and develop a sense of well-being.

Yoga Promoting flexibility & strength. Various breathing techniques & poses combined to reduce stress, increase flexibility, and enhance general well-being.

Yoga Fusion This class utilizes exercises drawn from tai chi and yoga to create an invigorating yet stress relieving workout. Gentle tai chi movements blended with slightly more vigorous yoga sequences are designed to relieve stress, boost energy levels, balance internal organs, and bolster immunity. Copilot Membership Required

Zumba® Zumba® fuses hypnotic Latin rhythms & easy to follow moves creating a dynamic fitness program that will blow you away. The principle behind Zumba® is incredibly simple; get fit and have fun! There are no complicated moves to learn and you don't need the coordination of a standard aerobics class.

Zumba® Gold Designed for active older adults who are looking for a modified Zumba® class that recreates the original moves you love at a lower-intensity. The design of the class introduces easy-to-follow Zumba® choreography that focuses on balance, range of motion and coordination. Copilot Membership Required
---
Text Alerts
Text FILLMEIN to 84483 to receive Facility alerts.
Text WBYCW to 84483 to receive Child Watch alerts.
Text OUTDOOREX to 84483 to receive Outdoor Goup Exercise alerts.
Text GROUPEX to 84483 to receive Indoor Group Exercise alerts.
Text YGYMS to 84483 to receive Gym Alerts alerts.
Text YCHILDCARE to 84483 to receive Childcare alerts.
Text WBFAM to 84483 to receive Youth and Family Programming alerts.
Text WBKIDS to 84483 to receive School Age Child Care alerts.
Text YTEEN to 84483 to receive Teen Programming alerts.
Text YMCAOFF to 84483 to receive Summer O.F.F. alerts.
Text YCKDAY to 84483 to receive Day Camp alerts.
Text YCKOVERNIGHT to 84483 to receive Overnight Camp alerts.
Text YCKFAMILIES to 84483 to receive YCK Families alerts.
Text POOLALERTS to 84483 to receive Mericle Pool alerts.
Text WBYST to 84483 to receive WBY Swim Team alerts.