Our History
The Wilkes-Barre Young Men's Christian Association was originally founded on May 8, 1863, to foster recreational and religious programs in the community, with the YMCA using various sites in downtown Wilkes-Barre. Agib Ricketts, a lawyer, was the first President of the YMCA Board. However, the nation was engaged in the Civil War, and the local YMCA effort was abandoned after 1864.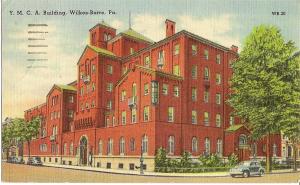 In 1871 under President George S. Bennett the YMCA was reorganized and again utilized various sites until 1892 when the YMCA completed construction of a building at 23 North Main Street (the site of the Times Leader). This building had bowling alleys, a gymnasium, and pool. An evening school program, begun in 1878, was the first night school in Wilkes-Barre. At the turn of the century, a mining school was organized. It offered courses in mining techniques and safety, and mining classes were offered for half a century.
In 1903, the YMCA building was renovated following a fire, and in 1911 a boys' building, the former G.J. Stegmaier home next to Coughlin High School, was renovated and enlarged for YMCA use. In 1922 the South Branch was founded at 434 South Main Street in Wilkes-Barre and served the Black community. In time, other branch YMCAs were also opened: Midvale in Plains in 1944, the Memorial branch in Parsons in 1946, and the Back Mountain branch in 1952.
The YMCA began its camping program in 1902 at North Pond, and later at various Susquehanna River sites in Wyoming County, and in 1922 at Lake Moseywood in the Pocono's. In 1927-1929 F.M. Kirby and Gilbert McClintock donated a 100-acre site for a boys' summer camp along the Lehigh River near Blakeslee. In 1953 the YMCA left Blakeslee and relocated to a 1,100-acre site near White Haven, named Camp Kresge, after S.S. Kresge who donated the costs of constructing the camp buildings. A summer day camp program is maintained at Frances Slocum State Park in the Back Mountain.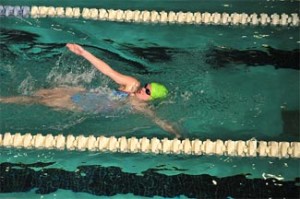 On October 1, 1934, the current YMCA building was opened at a cost of $625,000. Constructed on the site of the former George S. Bennett mansion, it was designed by architect Thomas A. Foster and built in a remarkable fifteen months, during the depression, by the A.J. Sordoni contracting company. The 75-foot swimming pool was dedicated to former Board President Charles F. Clift (1925-1927). Four floors contained 96 bedrooms leased to single men.
In October 1961 the Wilkes-Barre YWCA relocated to an enlarged YMCA to jointly serve the community. Later, the YWCA formally dissolved its corporate body, after years of distinguished service to the community. From this evolution the Greater Wilkes- Barre Family YMCA emerged.
A member agency of the United Way of Wyoming Valley, the YMCA has a rich history of community service far beyond the recreational facilities it offers. Largely unheralded are its special programs for the disadvantaged, handicapped and area youth often managed and staffed by the Y's volunteer committees.
The Wilkes-Barre Family YMCA promotes healthy lifestyles, strong families, develops leadership in youth, builds international understanding, assists in community development and is flexible to community change. The YMCA puts Christian principles into practice through programs to build healthy spirit, mind, and body for all.
Text Alerts
Text FILLMEIN to 84483 to receive Facility alerts.
Text WBYCW to 84483 to receive Child Watch alerts.
Text OUTDOOREX to 84483 to receive Outdoor Goup Exercise alerts.
Text GROUPEX to 84483 to receive Indoor Group Exercise alerts.
Text YGYMS to 84483 to receive Gym Alerts alerts.
Text YCHILDCARE to 84483 to receive Childcare alerts.
Text WBFAM to 84483 to receive Youth and Family Programming alerts.
Text WBKIDS to 84483 to receive School Age Child Care alerts.
Text YTEEN to 84483 to receive Teen Programming alerts.
Text YMCAOFF to 84483 to receive Summer O.F.F. alerts.
Text YCKDAY to 84483 to receive Day Camp alerts.
Text YCKOVERNIGHT to 84483 to receive Overnight Camp alerts.
Text YCKFAMILIES to 84483 to receive YCK Families alerts.
Text POOLALERTS to 84483 to receive Mericle Pool alerts.
Text WBYST to 84483 to receive WBY Swim Team alerts.