SWIMMING & AQUATICS
The Robert Mericle pool at the WB YMCA is the place to start, continue, or grow your fitness routine at any age. This 25-yard, 6-lane indoor pool is open every day in every season, allowing you to connect with other members who make swimming and aquatic exercise a greater part of their lifestyle. Read on below to learn more about our open swim offerings and structured swim programs to find the one that fits your goals.
Lap Swimming
Members and their guests 12 and older are welcome to use our lap lanes and equipment to practice their swimming strokes. Except for special events, there are always at least 3-lanes available (please practice lane etiquette during busy times and yield lanes to lap swimmers) Visit us each week to check out the Aquatics Director's Workout of the Week!
Open Swim/Family Swims
During select times each day, 3 lanes of our pool are removed and left open for free swim. Children 12 and under must be accompanied by an adult; children under the age of 6 must have an adult in the water with them. Noodles and other flotation devices are available for use during this time. Children may be asked to take a swim test by the lifeguard on duty before swimming in the deep end.
Swim Team
The YMCA swim team is based on the YMCA principles of competitive swimming and character development. We believe that everybody swims and everybody wins. Our coaching staff will help to develop our swimmers to be the very best swimmer while continuing to stress the Y values of respect, responsibility, honesty and caring. Learn More
Swim Lessons
The YMCA concentrates FIRST on Safety Around the Water skills and knowledge, then once the fundamentals are accomplished we work on teaching strokes. When registering for our pre-school (ages 3-5) or youth (5-12) you will need to register for the ability within the lessons. If your child does not swim at all, register for Stage 1 (Water Acclimation). We offer Stage 1 for both Pre-School & Youth. Please use the Swim Selector to guide you to which class your child should be in. If you need help please come to one of our FREE stage (ability) evaluations so that we can take a quick look at what they already know, and let you know the best stage for them. Learn More
Certification Courses
Our American Red Cross Review Lifeguard courses are for guards whose certifications are still current, but who need to review their skills and learn new updates to the course in order to re-certify their lifeguard certificate.
All of our courses are Blended Learning. Learn More.
Aquatic Exercise
Get fit with water fitness classes without going far from home. Come swim and exercise in the water at the Wilkes-Barre YMCA. Aquatic exercise is gentle on the joints and makes it a safer option for those suffering from joint problems. Our pool workouts can be tailored to fit your individual needs. You can even do your own pool workout as long as a lifeguard is on duty! Learn More
Coming soon: Masters Swimming – please fill out our interest survey!
---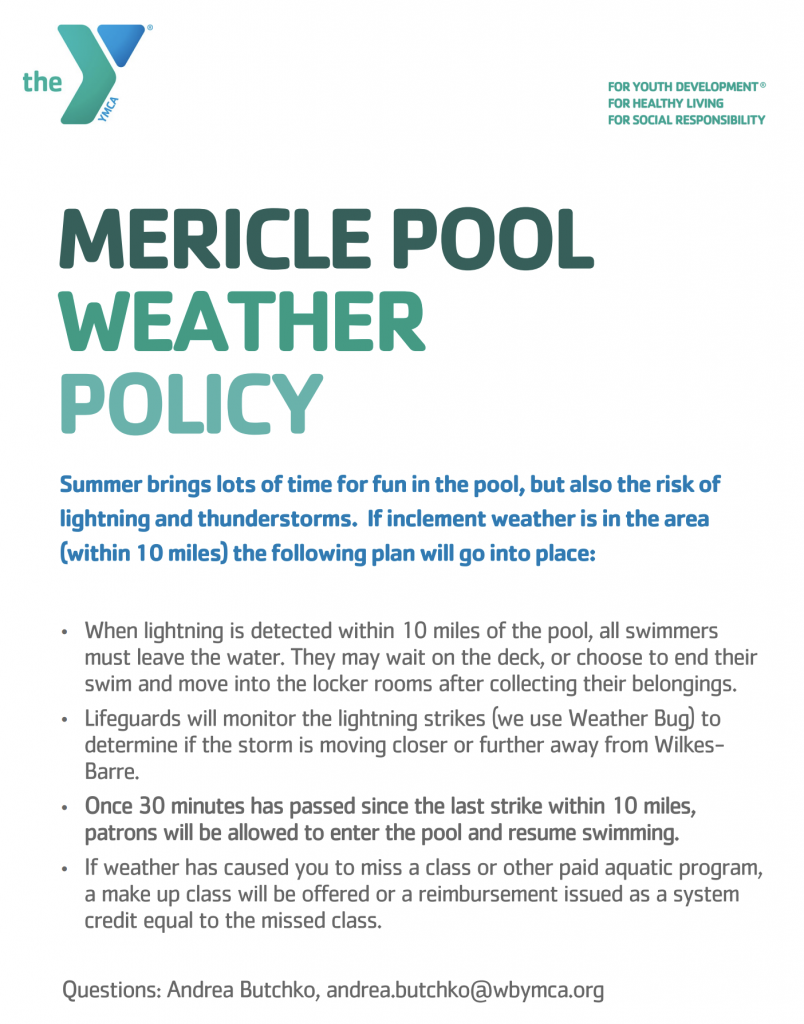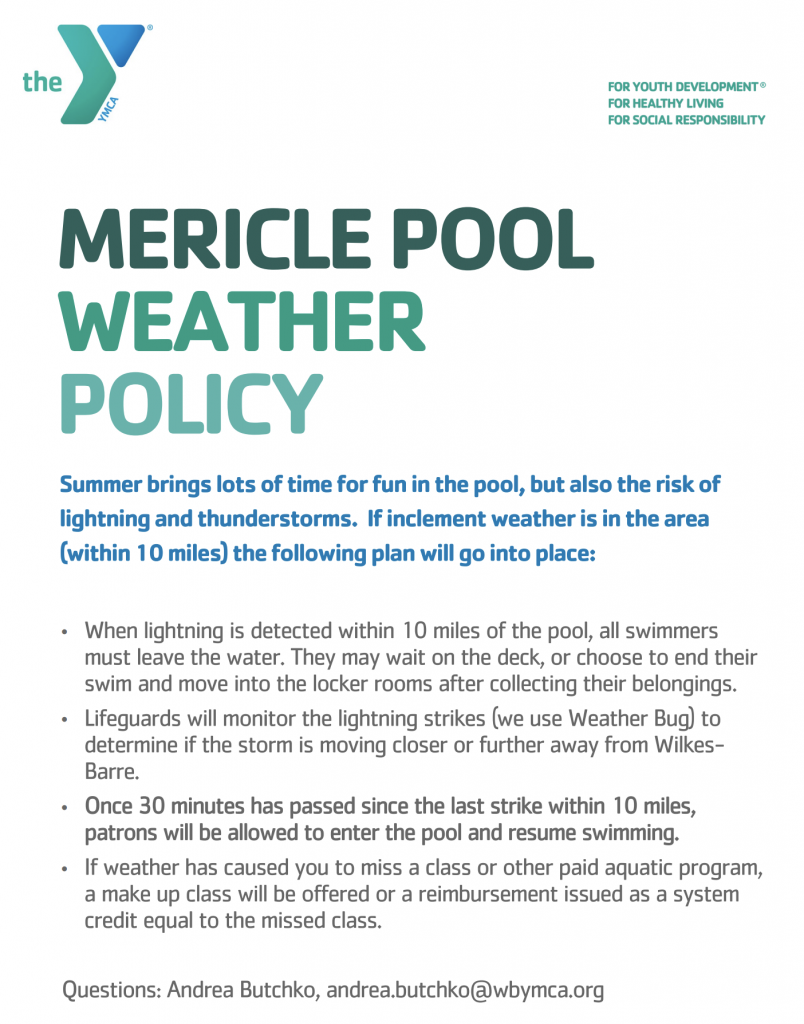 Text Alerts
Text FILLMEIN to 84483 to receive Facility alerts.
Text WBYCW to 84483 to receive Child Watch alerts.
Text OUTDOOREX to 84483 to receive Outdoor Goup Exercise alerts.
Text GROUPEX to 84483 to receive Indoor Group Exercise alerts.
Text YGYMS to 84483 to receive Gym Alerts alerts.
Text YCHILDCARE to 84483 to receive Childcare alerts.
Text WBFAM to 84483 to receive Youth and Family Programming alerts.
Text WBKIDS to 84483 to receive School Age Child Care alerts.
Text YTEEN to 84483 to receive Teen Programming alerts.
Text YMCAOFF to 84483 to receive Summer O.F.F. alerts.
Text YCKDAY to 84483 to receive Day Camp alerts.
Text YCKOVERNIGHT to 84483 to receive Overnight Camp alerts.
Text YCKFAMILIES to 84483 to receive YCK Families alerts.
Text POOLALERTS to 84483 to receive Mericle Pool alerts.
Text WBYST to 84483 to receive WBY Swim Team alerts.