TAKING ACTION, CHANGING ODDS
New class starting soon!
LIVESTRONG at the YMCA is an evidence-based program that helps adult cancer survivors reclaim their health and wellbeing following a cancer diagnosis. The Wilkes-Barre Family YMCA creates a welcoming community in which survivors can improve their strength and physical fitness, diminish the severity of therapy side effects, develop supportive relationships, and improve their quality of life.
How It Works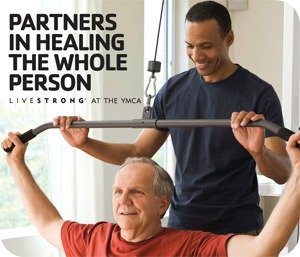 Small group, supportive environment
12-week program with two 90-minute sessions per week
Includes cardiovascular conditioning, strength training, balance, and flexibility exercises
Facilitated by certified instructors with special training
Who Can Participate?
Any adult 18 years old or older who is living with or beyond cancer treatment can participate in the program.
Contact
To learn more about LIVESTRONG at the YMCA, please contact Linda Reilly 570 970 5022.
Text Alerts
Text FILLMEIN to 84483 to receive Facility alerts.
Text WBYCW to 84483 to receive Child Watch alerts.
Text GROUPEX to 84483 to receive Group Exercise alerts.
Text YGYMS to 84483 to receive Gym Alets alerts.
Text YCHILDCARE to 84483 to receive Childcare alerts.
Text WBFAM to 84483 to receive Youth and Family Programming alerts.
Text WBKIDS to 84483 to receive School Age Child Care alerts.
Text YTEEN to 84483 to receive Teen Programming alerts.
Text YMCAOFF to 84483 to receive Summer O.F.F. alerts.
Text YCKDAY to 84483 to receive Day Camp alerts.
Text YCKOVERNIGHT to 84483 to receive Overnight Camp alerts.
Text YCKFAMILIES to 84483 to receive YCK Families alerts.
Text POOLALERTS to 84483 to receive Mericle Pool alerts.
Text WBYST to 84483 to receive WBY Swim Team alerts.