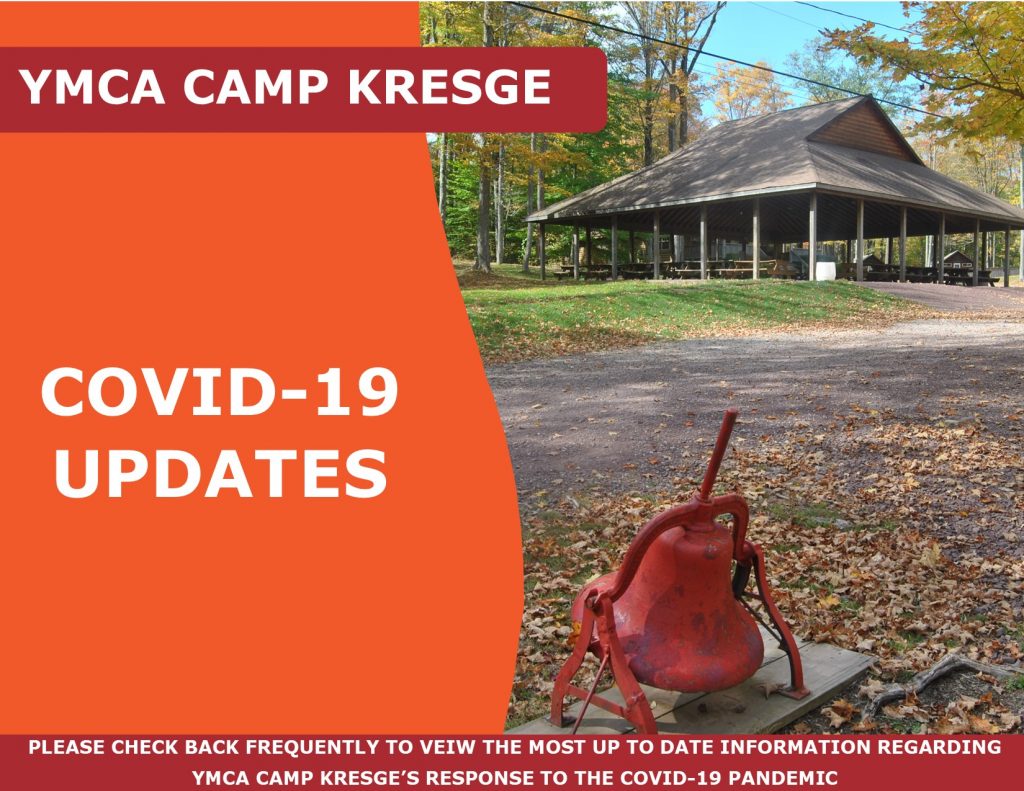 REGISTRATION OPENING 1/15!
Overnight camp at YMCA Camp Kresge is more than just a traditional summer resident camp experience. We offer a variety of friend-making opportunities for your child in a fun and safe environment. From our programs to cabin life, our caring and mature staff will build and strengthen your child's foundation. Through the use of the YMCA's core values of Caring, Honesty, Respect and Responsibility your child will grow, while building self-esteem, character, friendships and memories that will last a lifetime.
To learn more about our programs, please click the links below.
Traditional Overnight Camp
Teen Leadership Camps
Tiered Pricing Structure & Financial Assistance
Overnight Camp Goals & Objectives
2021 Session Dates & Rates: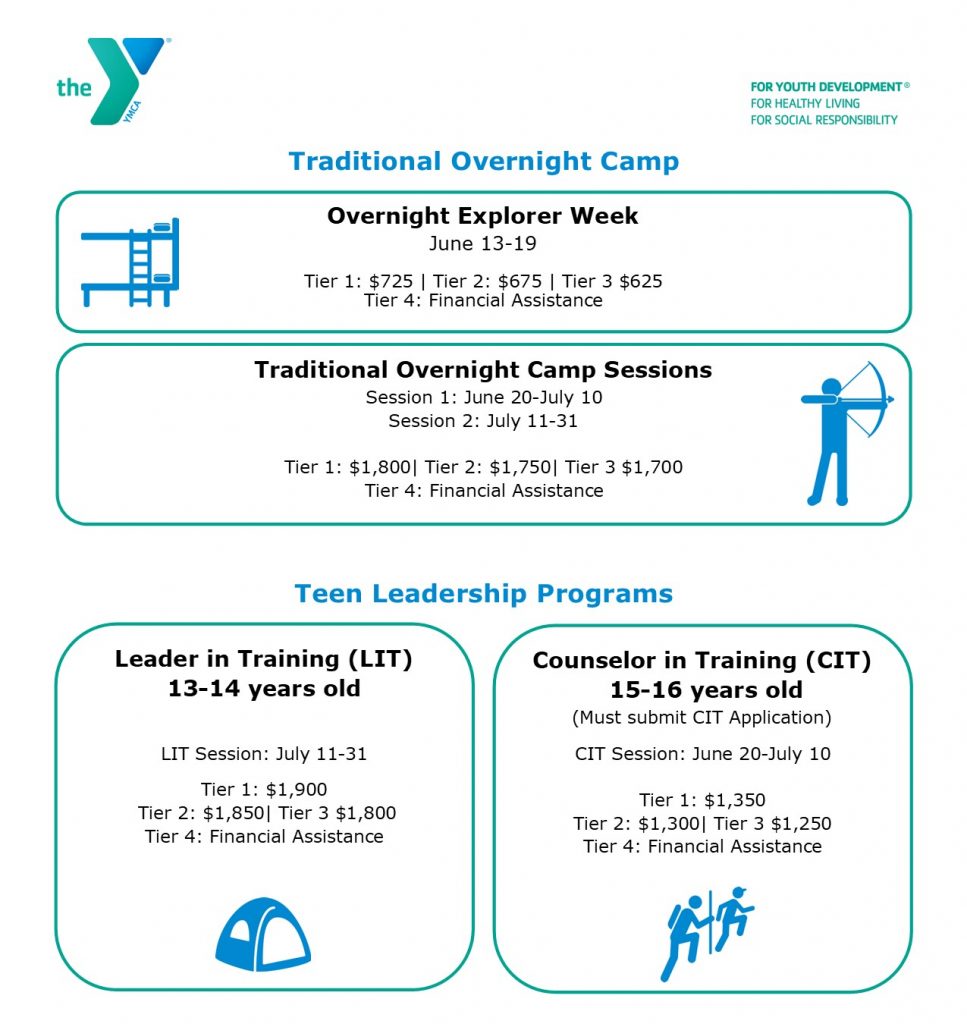 2021 Overnight Camp Registration Form
2021 CIT Application
How to Register:
Online: Click the red "Register for Camp" button to the right.
Phone: Please call 570-443-2267. Have payment information available.
By Mail/Email: Print and fill out the 2021 Registration Form and return to:
YMCA Camp Kresge
ATTN: Overnight Camp
382 Camp Kresge Ln
White Haven PA 18661
Email: ck.office@wbymca.org Subject: Overnight Registration
Tiered Pricing & Financial Assistance
It's a challenge to put a price on the value of camp and we would like to assist in keeping camp accessible for all. Please choose whichever price is appropriate for your family, no questions asked. This choice will NOT effect your camper's experience in our programs, and will be kept confidential. If your family is faced with a choice between paying a higher price or attending more weeks of camp, we encourage your camper to attend for longer, and select a lower tier. If your family is in need of Financial Assistance, please submit a Financial Assistance application along with your registration form and deposit.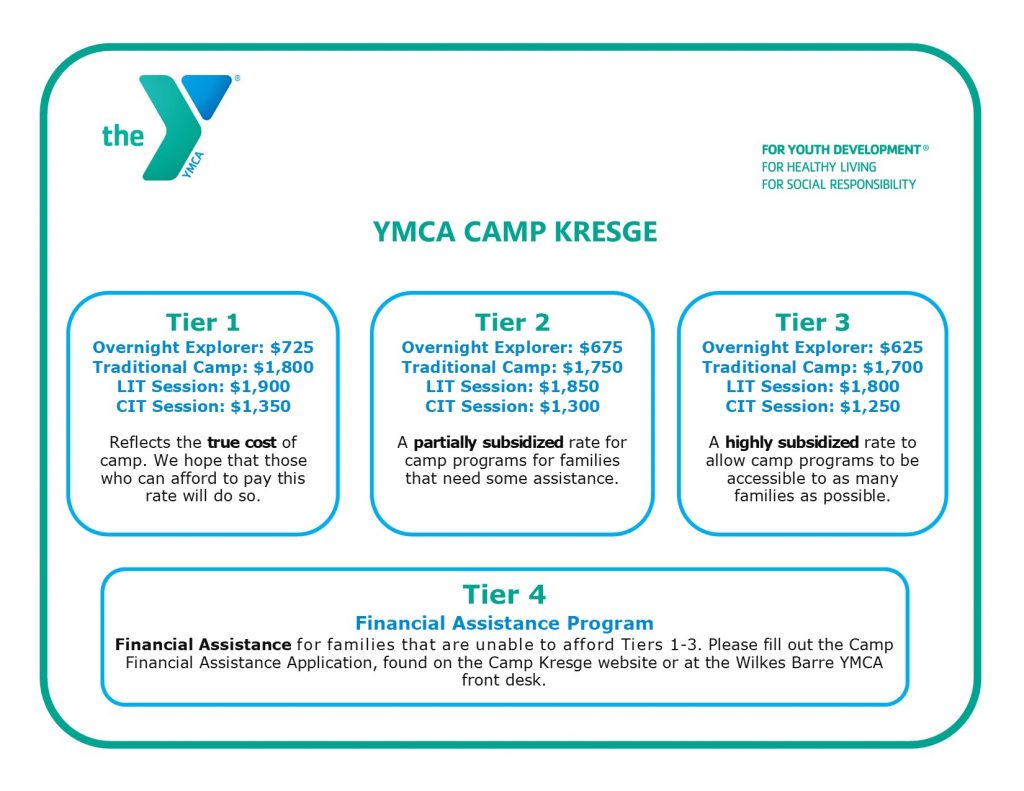 YMCA Camp Kresge is a community service organization that strives to provide outstanding camping programs to anyone who wishes to participate. Holding true to our mission and values, we offer financial assistance to community residents who qualify.
To apply for Financial Assistance, please complete the Financial Assistance Application below, along with registration forms, and return to:
YMCA Camp Kresge Attn: Financial Assistance
382 Camp Kresge Lane
White Haven, PA 18661
2021 Financial Aid Application
Traditional Overnight Camp
YMCA Camp Kresge's Traditional Overnight Camp is for campers between the ages of 7 and 16 years old. Our Overnight Camp Sessions furn two weeks in length. In this program, campers will live in a cabin with cabin mates of a similar age, along with staff members. Campers participate in a variety of activities with their cabin throughout the two-week session, and also have the opportunity to sign up for skills classes and activities. Our caring and well-trained staff will help foster camper's self-esteem, character and friendships, while also creating lifelong memories.
Campers who are looking for a one-week overnight camp experience can register for our Overnight Explorer Week. This single week overnight camp experience is geared towards campers who may either be first-time overnight campers or campers who are looking for specifically a one-week experience.
Overnight Camp Sample Schedule
Teen Leadership Camps
Leader In Training (LIT) Program
Campers ages 13 & 14 can sign up for our two-week Leader-In-Training. This camp includes not only an opportunity for teens to build their leadership skills, but also to work on communication, teamwork and planning. The Leader-In-Training (LIT) campers will participate on a canoe trip down the Delaware River lead by professional YMCA staff. This three-day trip allows the teens to put their newly acquired skills to good use as they plan meals, inspect and pack their gear and participate in leadership activities while on the trip.
Counselor In Training (CIT) Program
Campers ages 15 & 16 can apply to be a part of our Counselor-In-Training Program. This 3-week program provides an opportunity to learn about what it takes to live with and supervise children in a camp setting. Campers must be pre-approved by the Overnight Camp Director to participate in this program.
This program requires the camper to complete and submit the CIT Application prior to registration.
Text Alerts
Text FILLMEIN to 84483 to receive Facility alerts.
Text WBYCW to 84483 to receive Child Watch alerts.
Text OUTDOOREX to 84483 to receive Outdoor Goup Exercise alerts.
Text GROUPEX to 84483 to receive Indoor Group Exercise alerts.
Text YGYMS to 84483 to receive Gym Alerts alerts.
Text YCHILDCARE to 84483 to receive Childcare alerts.
Text WBFAM to 84483 to receive Youth and Family Programming alerts.
Text WBKIDS to 84483 to receive School Age Child Care alerts.
Text YTEEN to 84483 to receive Teen Programming alerts.
Text YMCAOFF to 84483 to receive Summer O.F.F. alerts.
Text YCKDAY to 84483 to receive Day Camp alerts.
Text YCKOVERNIGHT to 84483 to receive Overnight Camp alerts.
Text YCKFAMILIES to 84483 to receive YCK Families alerts.
Text POOLALERTS to 84483 to receive Mericle Pool alerts.
Text WBYST to 84483 to receive WBY Swim Team alerts.