Celebrating Family Moments
PARTY OPTIONS
WIBIT Swim Parties
This option includes 1 hour in the pool on our new WIBIT Inflatable Play Structures & 45 minutes in a party area.
---
WHAT'S INCLUDED
2 trays of 18 Cut Sicilian pizza OR 4 trays of Large Round pizza (additional pizza is available at an additional fee)
Juice boxes & Water
Paper products (table clothes, plates, forks, napkins, candles)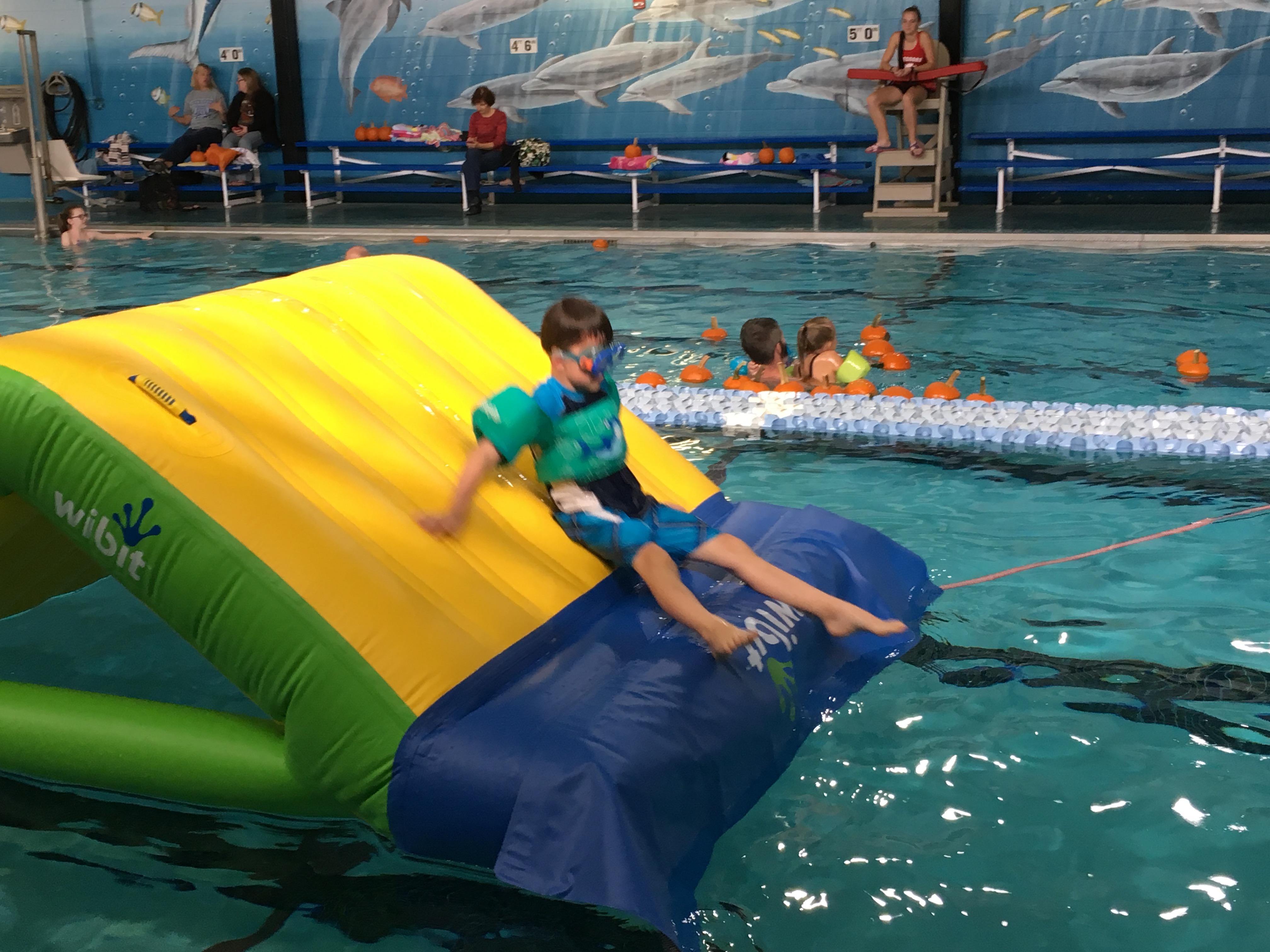 Please bring your birthday cake.
You are welcome to bring in any additional refreshments if you wish, or order additional items from our Pizza Partner, Tommy's Pizza Corner. Please click here for a complete list of menu options. All additional items must be ordered no later than the Wednesday prior to your party date.
---
PARTY FEES
The first 20 children are included in the package price. Each additional child is $5.00. (An additional tray of pizza will be included for every 5 additional children)
YMCA Member – $230 (birthday child must be a member to receive this rate)
Non-Member – $270
---
PARTY TIMES
Saturday 12:15-2:15 pm

To schedule a party or for more information contact:
Aquatic Coordinator
Sam Reinhardt
570-970-5051
Download our Birthday Party Brochure
---
PLEASE NOTE
All parties are two (2) hours
A maximum of thirty-five (30) children per party.
A non-refundable deposit of $100 is required to reserve the party date and time. Deposits are non-transferable.
Parents/guardians should arrive 15 minutes prior to the party time , but no more than 30 minutes.
Each party will have a party host who will assist with set-up/clean up and help to make the party a fun time for all.
POOL PARTIES: ADULTS ARE REQUIRED TO BE IN THE WATER WITH CHILDREN WHO CANNOT TOUCH THE BOTTOM OF THE POOL OR ARE UNDER AGE 6 AND NEED A FLOTATION DEVICE.
Text Alerts
Text FILLMEIN to 84483 to receive Facility alerts.
Text WBYCW to 84483 to receive Child Watch alerts.
Text OUTDOOREX to 84483 to receive Outdoor Goup Exercise alerts.
Text GROUPEX to 84483 to receive Indoor Group Exercise alerts.
Text YGYMS to 84483 to receive Gym Alerts alerts.
Text YCHILDCARE to 84483 to receive Childcare alerts.
Text WBFAM to 84483 to receive Youth and Family Programming alerts.
Text WBKIDS to 84483 to receive School Age Child Care alerts.
Text YTEEN to 84483 to receive Teen Programming alerts.
Text YMCAOFF to 84483 to receive Summer O.F.F. alerts.
Text YCKDAY to 84483 to receive Day Camp alerts.
Text YCKOVERNIGHT to 84483 to receive Overnight Camp alerts.
Text YCKFAMILIES to 84483 to receive YCK Families alerts.
Text POOLALERTS to 84483 to receive Mericle Pool alerts.
Text WBYST to 84483 to receive WBY Swim Team alerts.