JOHN A. MCCOLE & CONNIE UMPHRED CHARITY GOLF CLASSIC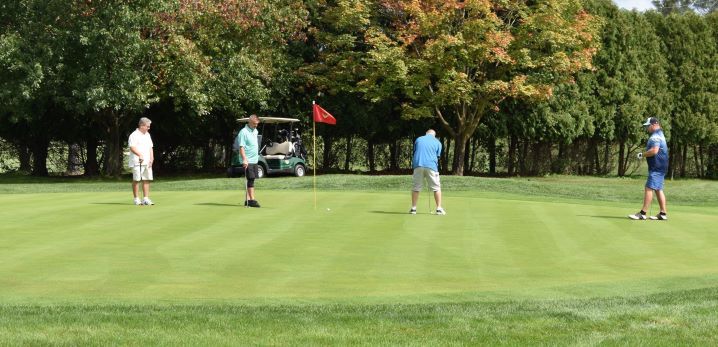 THANK YOU for helping to make the John A. McCole & Connie Umphred Golf Classic a successful event supporting YMCA Campership!
A special shout out to our Sponsors:
Day Camp Sponsors:
AJ Consultants, LLC
Assured Partners of NEPA
Bodnar Sales & Service
Bonner Chevrolet
Brucelli Advertising Inc.
Clear Brook Foundation
Cook's Pharmacy
Diamond Manufacturing
Dougherty, Leventhal & Price, LLP.
First Keystone Community Bank
FNCB Bank
Fran Tomalis & Sons
Gold Star Digital Document Services
Guthrie Mitchell Insurance Agency
Hillman Time System, Inc.
Hunting Boys
Hunton Andrews Kurth
In Memory of Stanley Wysocki
Invisible Fences of Northeast PA
Landmark Community Bank
Lawrence Cable & Associates
Luzerne County Sports Hall of Fame
Mamary-Durkin Funeral Services
Mericle Commercial Real Estate Services
Monk Heating & Air Cond., Inc.
Pennsylvania Paper & Supply Company
Postler & Jaeckle Corp
Schiff's Food Service, Inc.
Service Electric Cable TV
Sharper Embroidery
Stevens & Lee
Superior Pools and Spas
UGI Energy Services
Valley Cleaning & Property Management
Wet Paint
Wharton, Aldhizer & Weaver
Wilkes-Barre Kiwanis Foundation
PennEastern Engineers, LLC
Kate Button
Don & Jane Cawley
Loren Grossman, D.M.D.
Doreen & Russ Johnson
Attorney Andrew J. Katsock III
Erin Kerr
Atty. Allan Kluger
WIlliam Krywicki
Bob & Trudy Matley
George Nahas, MD
Katlin O'Hara
Joseph O'Hara
John Riccetti
Dr. Edward & Jeanette Roke
John Vetashick
Dr. Chester Yavorski
Timothy Yurek
Overnight Sponsors:

Colours, Inc
Fidelity Bank
IMG
Morgan Stanley
P.L.D. Associates, Inc.
Power Engineering Corp.
Pride Mobility
Robert C. Williams Insurance Agency
Rosenn Jenkins & Greenwald
Straub Metal
Topp Copy
Wood's Ice Cream
Reinhart Food Service
Shep Pawling
Durelle & Connie Scott
Jay Amory
Kate & Larry Churnetski
Greg Collins
Robert Frankelli
Peter Grollman
Tom & Cathy Maheady
Douglas & Mary Ellen Petrie
Cart Sponsor: Mattioli Foundation
Cocktail Sponsors
Cavanaugh's Grille
Dr. Susan Elczyna & Ray Irvin
Dr. Lindsey Roke
Gift Sponsor: Koehl, Youngman, Levy & Rosenthal Wealth Management Group
Ice Cream Truck Sponsor: Cathy Mihalick
Lunch Sponsors
Button Oil & Propane
Luzerne Bank
Major Sponsors
Berkshire Asset Management
Brown & Brown of Lehigh Valley, LP
Jacobi Capital
Stephen & Sharon Hudacek Family Fund of the Scranton Area Foundation
The James and Regina Yates Fund
The William J. & Constance K. Umphred Fund of The Luzerne Foundation
UGI Utilities, Inc.
Wilkes-Barre Racing Inc.
Ashley Faraday
Dr. David Lucchino
Dan & Shelly Meuser
Jim & Marie Thomas
Media Sponsor
Times Leader Media Group
Media Sponsor: Times Leader Media Group
Tournament Sponsors
M & T Bank
Kronick Kalada Berdy & Co. P.C.
McCole Campership Trust (Luzerne Foundation)
McCole Foundation
Text Alerts
Text FILLMEIN to 84483 to receive Facility alerts.
Text WBYCW to 84483 to receive Child Watch alerts.
Text OUTDOOREX to 84483 to receive Outdoor Goup Exercise alerts.
Text GROUPEX to 84483 to receive Indoor Group Exercise alerts.
Text YGYMS to 84483 to receive Gym Alerts alerts.
Text YCHILDCARE to 84483 to receive Childcare alerts.
Text WBFAM to 84483 to receive Youth and Family Programming alerts.
Text WBKIDS to 84483 to receive School Age Child Care alerts.
Text YTEEN to 84483 to receive Teen Programming alerts.
Text YMCAOFF to 84483 to receive Summer O.F.F. alerts.
Text YCKDAY to 84483 to receive Day Camp alerts.
Text YCKOVERNIGHT to 84483 to receive Overnight Camp alerts.
Text YCKFAMILIES to 84483 to receive YCK Families alerts.
Text POOLALERTS to 84483 to receive Mericle Pool alerts.
Text WBYST to 84483 to receive WBY Swim Team alerts.