Pool Schedule & Lap Lane Reservations
Masks are required on deck AND ON THE BALCONY and should be worn until you are ready to enter the pool.
Beginning 1/5, the following schedule for Water Fitness will go into effect:

Monday 8:30am & 4:30pm
Wednesday 8:30am & 2:30pm
Friday 8:30am & 4:30pm
Beginning Monday 11/23, the following MANDATORY RESERVATION spaces are open Mon-Fri through the end of Feb:

3:30-4: 1 5 pm 6 available spots
4: 1 5-5:00 pm 6 available spots
5:00-5:30 pm 0 available spots (transition time)
5:30-6: 15 pm 4 available spots (except Tuesday)
5:40-6:15 pm (Tuesday ONLY)
The pool will be closed on the following Sundays for swim team
meets: 12/6**, 12/20*, 1/17*
*YMCA Virtual Swim Meet for Penn Del League – WB Team ONLY
** Pacers Aquatic Club USA Swimming Meet

Questions
Andrea Butchko, Aquatics Director, andrea.butchko@wbymca.org
Sam Reinhardt, Aquatics Coordinator, sam.reinhardt@wbymca.org

To make a reservation: Call/stop by the front desk, call/email aquatics 570-970-5051, or reserve online.
---
Looking for more lap swim times?
All WB memberships accepted at Pittston pool; no reservations required. See Pittston YMCA website for schedule.

WB weekend hours 8-4pm Saturday, 8-12pm Sunday
---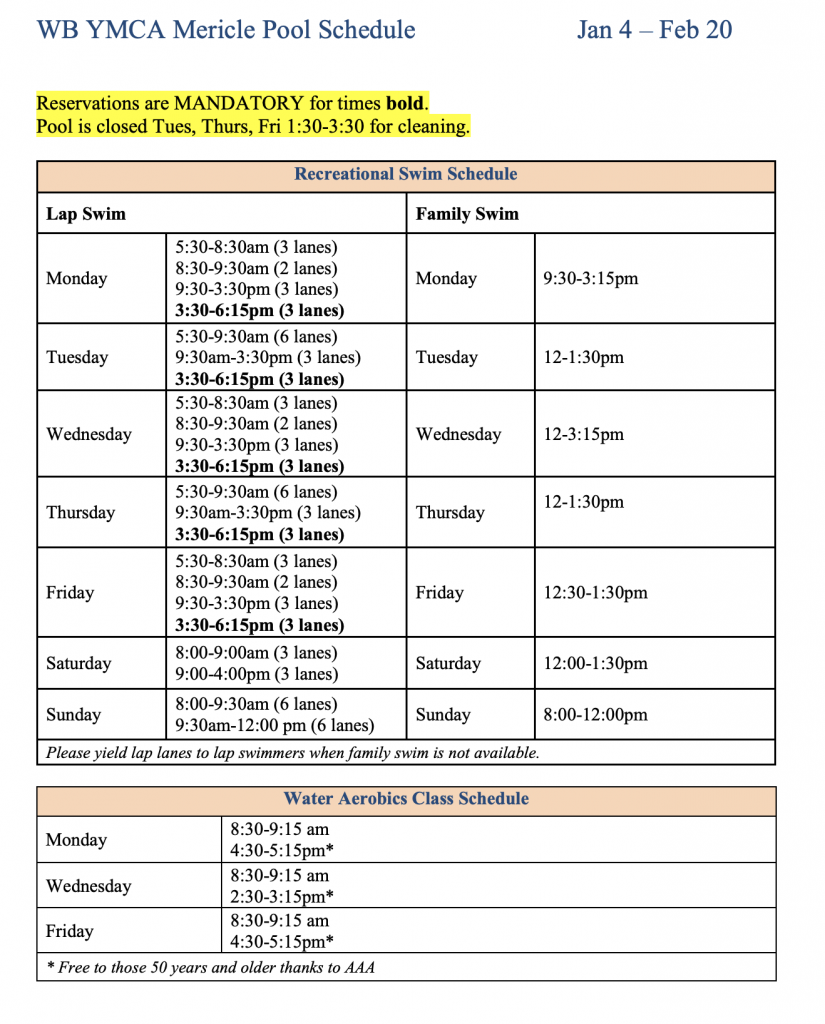 ---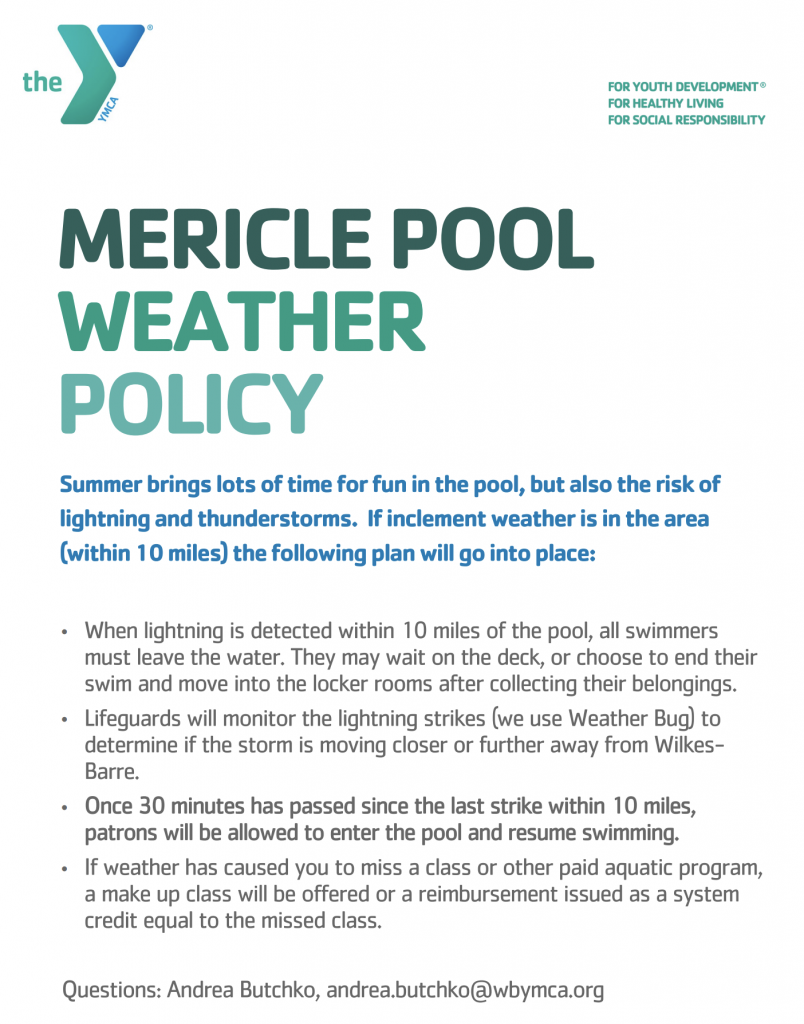 Text Alerts
Text FILLMEIN to 84483 to receive Facility alerts.
Text WBYCW to 84483 to receive Child Watch alerts.
Text OUTDOOREX to 84483 to receive Outdoor Goup Exercise alerts.
Text GROUPEX to 84483 to receive Indoor Group Exercise alerts.
Text YGYMS to 84483 to receive Gym Alerts alerts.
Text YCHILDCARE to 84483 to receive Childcare alerts.
Text WBFAM to 84483 to receive Youth and Family Programming alerts.
Text WBKIDS to 84483 to receive School Age Child Care alerts.
Text YTEEN to 84483 to receive Teen Programming alerts.
Text YMCAOFF to 84483 to receive Summer O.F.F. alerts.
Text YCKDAY to 84483 to receive Day Camp alerts.
Text YCKOVERNIGHT to 84483 to receive Overnight Camp alerts.
Text YCKFAMILIES to 84483 to receive YCK Families alerts.
Text POOLALERTS to 84483 to receive Mericle Pool alerts.
Text WBYST to 84483 to receive WBY Swim Team alerts.