Healthy Weight and Your Child
EMPOWERING FAMILIES TO LIVE HEALTHIER TOGETHER
PROGRAM OVERVIEW
Healthy Weight and Your Child is a 25-session evidence-based program for children with obesity. The program includes a Family Information Session followed by 25 sessions delivered over four months. The family-based weight-management program focuses on nutrition education and physical activity to encourage healthier eating habits and an active lifestyle to reach a healthy weight.
The Healthy Weight and Your Child curriculum is adapted from the most widely disseminated and extensively evaluated child weight management program in the world. Studies have shown the program model is effective in reducing a child's body mass index and waist circumference, reducing sedentary behaviors, increasing physical activity, and improving self-esteem.
WHY FAMILY-BASED?
The program is designed with the whole family in mind, engaging a child and adult in education, healthy eating and physical activity to elicit positive change and help families learn skills to live a healthier lifestyle long- term. Evidence shows that child weight-management programs are more effective when the whole family is involved and committed to adopting healthier habits.
TO QUALIFY, A CHILD MUST:
• Be 7-13 years old
• Carry excess weight (Body mass index of the 95th percentile or higher)
• Receive clearance from a provider to participate in physical activity
• Have an adult attend ALL sessions with them
---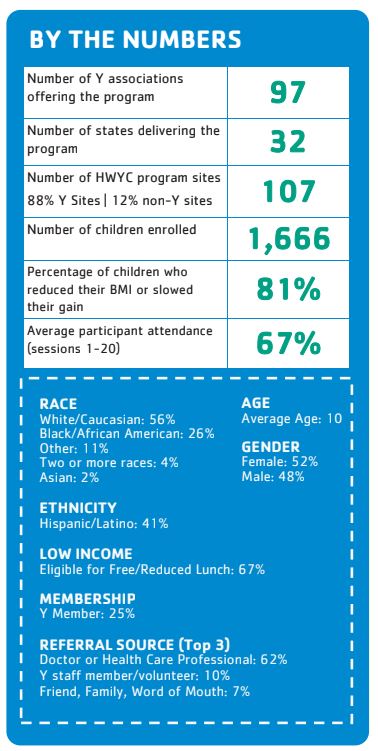 A FAMILY-BASED LIFESTYLE CHANGE PROGRAM:
In-person sessions for child and adult
Physical activity
Healthy eating
Portion control
Grocery Store tour
Food label reading
Internal and external triggers
AN EVIDENCE-BASED PROGRAM

Over 39 peer-reviewed publications have documented positive outcomes following the program
Developed by leading child health and weight management specialists using the best available evidence, clinical and government guidelines
---
Text Alerts
Text FILLMEIN to 84483 to receive Facility alerts.
Text WBYCW to 84483 to receive Child Watch alerts.
Text OUTDOOREX to 84483 to receive Outdoor Goup Exercise alerts.
Text GROUPEX to 84483 to receive Indoor Group Exercise alerts.
Text YGYMS to 84483 to receive Gym Alerts alerts.
Text YCHILDCARE to 84483 to receive Childcare alerts.
Text WBFAM to 84483 to receive Youth and Family Programming alerts.
Text WBKIDS to 84483 to receive School Age Child Care alerts.
Text YTEEN to 84483 to receive Teen Programming alerts.
Text YMCAOFF to 84483 to receive Summer O.F.F. alerts.
Text YCKDAY to 84483 to receive Day Camp alerts.
Text YCKOVERNIGHT to 84483 to receive Overnight Camp alerts.
Text YCKFAMILIES to 84483 to receive YCK Families alerts.
Text POOLALERTS to 84483 to receive Mericle Pool alerts.
Text WBYST to 84483 to receive WBY Swim Team alerts.