FULL DAY SCHOOL AGE PROGRAM AT THE WILKES-BARRE FAMILY YMCA

A.C.H.I.E.V.E
Academics. Care. Help. Inspire. Educate. Value. Elevate.
During these challenging times when your regular routine seems to change on a daily basis, one thing remains the same: your child needs a safe, enriching place to go during the school day.
While the school year may look different than before, our A.C.H.I.E.V.E. Program will be a familiar place where children can be safe, active, learning and engaged during their virtual school time. As an organization dedicated to youth development, we know how important it is for a child to have an enriching place for learning and growth, both in and out of school.
The Wilkes-Barre Family YMCA is happy to be able to provide that place, allowing your child's social, emotional, physical and academic journey to continue all day long.
---
Program Details

Program begins September 2020
Program ends June 2021
Monday through Friday
7-8:30am (Before Care), 8:30-3:30pm (Virtual Learning), 3:30-6:00pm (After Care)
Children will receive one meal and one snack per day. TBD based on food distribution from the School District
---
Program Benefits
Supervised Athletic Play/Organized Games and Activities
S.T.E.A.M. Activities

Classroom Library

Academic Support

Mindfulness Development
---
Who is Eligible for the A.C.H.I.E.V.E. Program?

The A.C.H.I.E.V.E. program is available to any child who is enrolled in their school district's virtual learning option for the 2020-2021 school year.
---
For Pricing and Questions
Ashlee Rittenhouse, Youth Director
Email: Ashlee.rittenhouse@wbymca.org
Phone: 570-970-5039
Get involved with reading!
---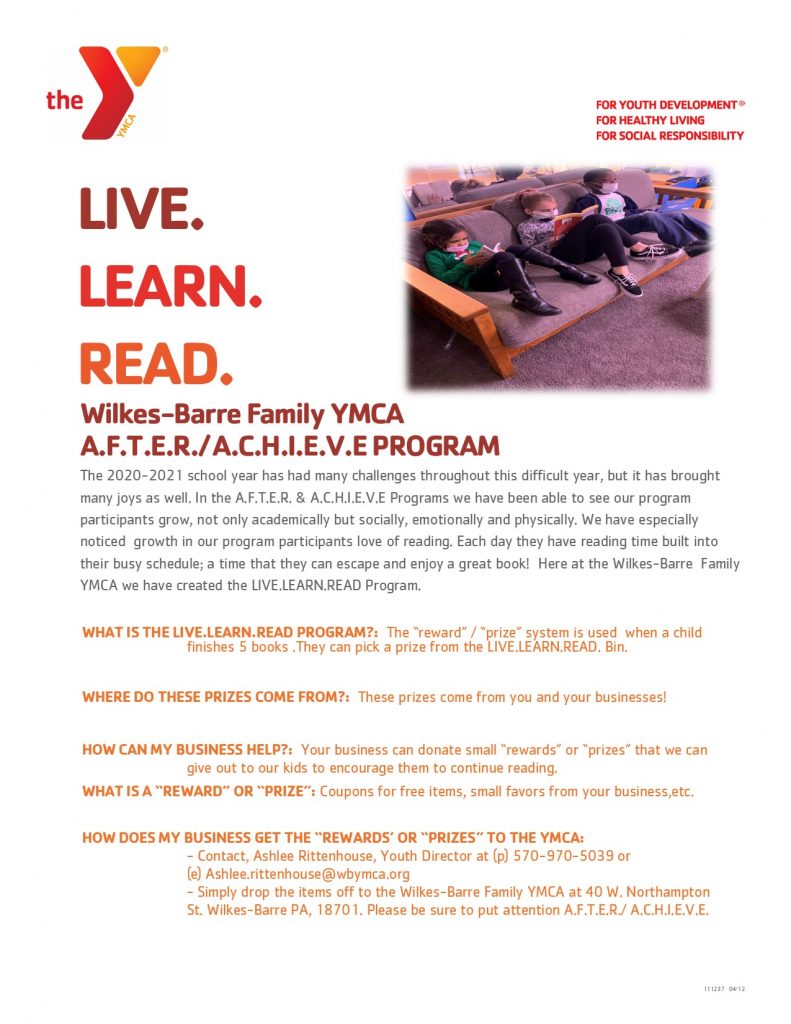 ---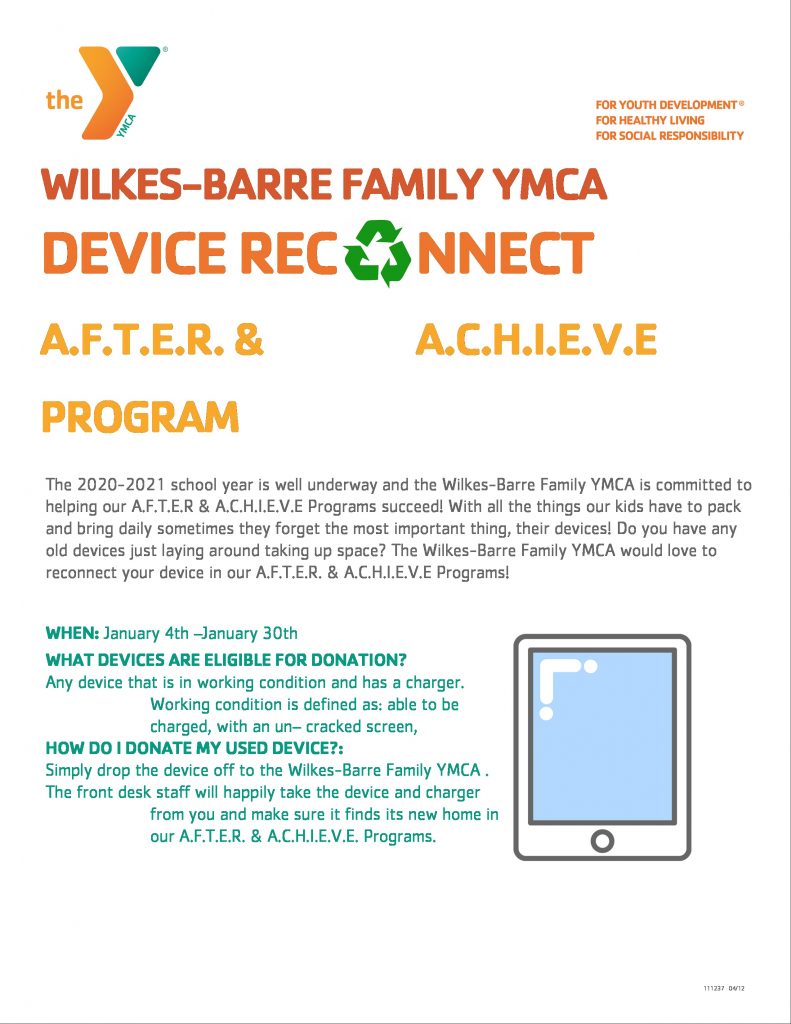 ---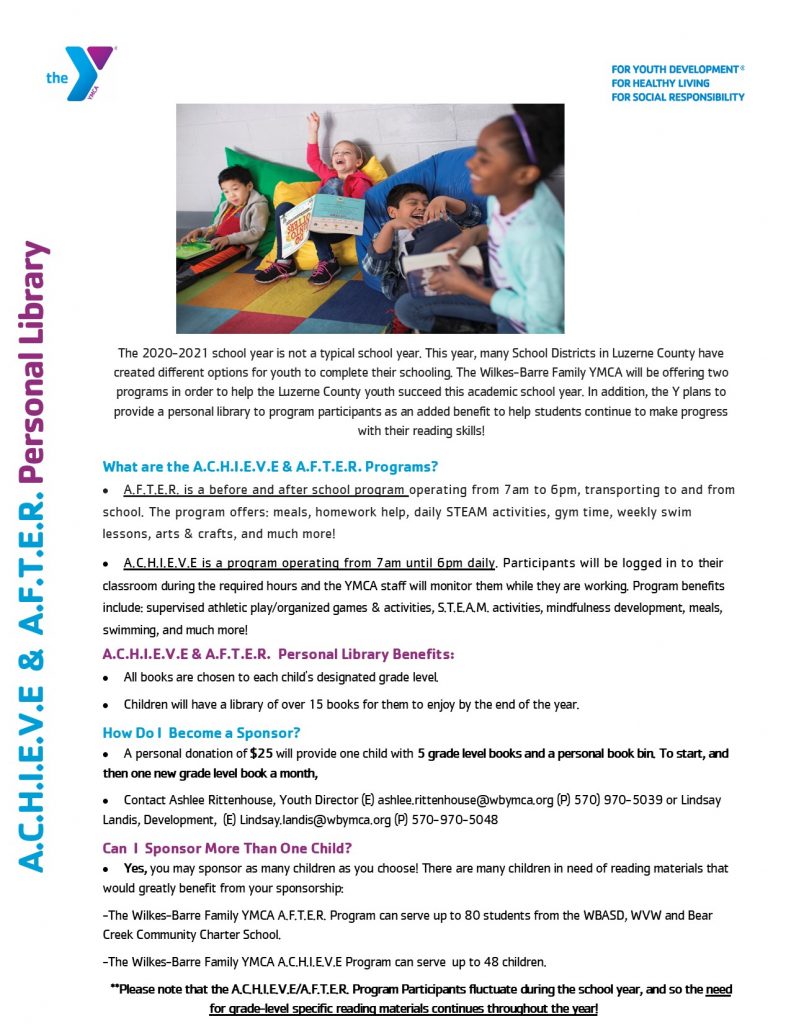 Text Alerts
Text FILLMEIN to 84483 to receive Facility alerts.
Text WBYCW to 84483 to receive Child Watch alerts.
Text OUTDOOREX to 84483 to receive Outdoor Goup Exercise alerts.
Text GROUPEX to 84483 to receive Indoor Group Exercise alerts.
Text YGYMS to 84483 to receive Gym Alerts alerts.
Text YCHILDCARE to 84483 to receive Childcare alerts.
Text WBFAM to 84483 to receive Youth and Family Programming alerts.
Text WBKIDS to 84483 to receive School Age Child Care alerts.
Text YTEEN to 84483 to receive Teen Programming alerts.
Text YMCAOFF to 84483 to receive Summer O.F.F. alerts.
Text YCKDAY to 84483 to receive Day Camp alerts.
Text YCKOVERNIGHT to 84483 to receive Overnight Camp alerts.
Text YCKFAMILIES to 84483 to receive YCK Families alerts.
Text POOLALERTS to 84483 to receive Mericle Pool alerts.
Text WBYST to 84483 to receive WBY Swim Team alerts.