37th Annual Bernie's Memorial 3 Mile Run/Walk
2020 AWARD WINNERS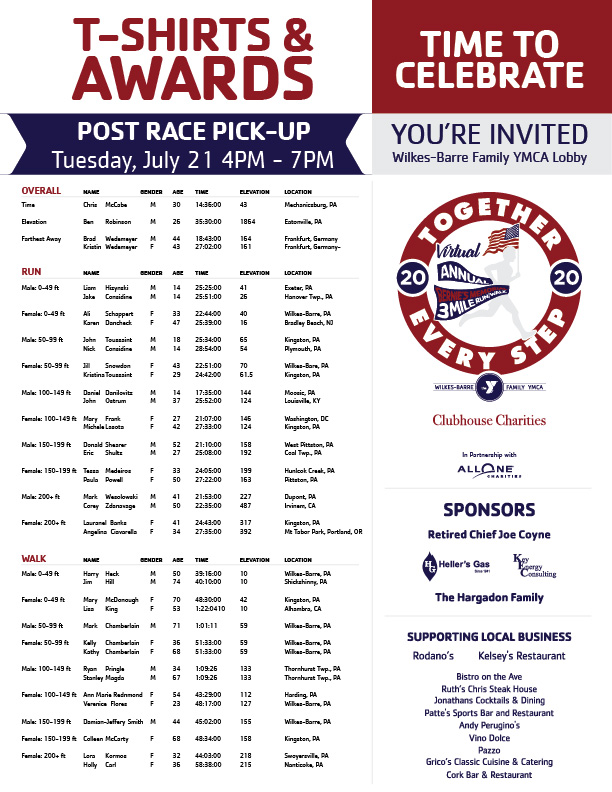 Download a printable version of Award Winners
*PLEASE NOTE THAT THIS IS NOW A VIRTUAL RACE*
Bernie's Run is a valued tradition celebrating our nation's birthday since 1984. Due to the current situation facing our community with COVID-19, our 3 mile Run/Walk will be a virtual race for 2020.
Participants are welcomed and encouraged to find new and exciting routes to challenge themselves when participating in Bernie's Run this year. Wilkes-Barre City streets will not be used for this event. If you are looking to stay close to the course and remain relatively flat, you are welcome to use Kirby Park. However, keep in mind that we have NEW categories this year and besides time, elevation gain and furthest from the Y can play a part in your chance to be awarded!
---
Race Days: Friday, July 3rd at 12:00 AM to Sunday, July 5th at 10 PM
Registration: Open until July 5th at 12PM
Race Options: You can choose to enter the run or walk to Compete (awarded) or Finish (non-awarded).
Compete – $20 fee for Run or Walk
Must submit proof of race results
Includes shirt and chance at award
Finish – $15 fee for Run or Walk
Participants should report that they have completed the race but do not need to report a time
Includes shirt
Kid's Fun Run

Free – No submission of results
Must register
Will receive a shirt
---
How It Works
Starting on Friday, July 3rd at 12:00 AM, run or walk your 3 mile race at any point before the 10 PM cutoff on Sunday, July 5th and submit your results to berniesrun@wbymca.org
Proof of your race results must be in the form of a screenshot of GPS data used from running apps such as Garmin, Strava, MapMyRun, etc. and must show the elevation gain from the run.
Race results which show a negative elevation gain or do not meet a full 3 mile distance will be disqualified.
Participants are permitted to run the race on a treadmill as long as you run on at least 1% incline to prove elevation gain.
---
Competition Categories
Awarding Top 2 Males and Females in both the Run and Walk

Elevation Gain of 49ft & Under
Elevation Gain of 50 – 99ft
Elevation Gain of 100 – 149ft
Elevation Gain of 150 – 199ft
Elevation Gain of 200ft & Above

Overall Awards (Male or Female)

Fastest Overall
Most Gain Overall
Route furthest away from the YMCA
---
Awards – Gift Cards to Local Businesses
$25 each – Top 2 Male and Female in each for Walk and Run
$100 – Award for furthest route from the YMCA
$100 – Fastest Overall
$100 – Most Gain Overall
Award Presentation
Awards will be presented approximately 2 weeks after the race during our post race T-shirt/award pickup celebration.
---
T-shirts
T-shirts are included with every registration this year
There is not a cut-off date or deadline for T-shirts
Everyone is guaranteed a shirt in a specific size of their choice
T-shirts will be available for pickup approximately 2 weeks after the race.
T-shirt/Award Pickup Celebration
Join us at the Y post race to get your T-shirt, awards and finish photos
Our celebration will be planned for a length of time to allow participants to enter the Y lobby individually or as households for pick up
We will ensure cleanliness, sanitation and distancing as we celebrate
Pickup celebration will be approximately 2 weeks after the race
All participants will receive an email to the address provided at registration for T-shirt pickup date/time
---
Results Link
*Please follow all social distancing guidelines when competing in this event
---
At the Wilkes-Barre Family YMCA, we believe strengthening people leads to a stronger, more caring community. We work with people who share our beliefs and mission and show their support by giving their time, talent, and financial support. By inspiring and involving people, we live our mission and put Christian principles into practice through programs that build a healthy spirit, mind and body for all.
The YMCA is a cause-driven organization focused on youth development, healthy living, and social responsibility. Every day we nurture the potential of kids, help people live healthier lives, and support our neighbors in need–because we believe in strengthening our community.

Everyone deserves to be part of our YMCA, regardless of ability to pay. At the Y, our doors are open to all. Our financial aid program insures that promise. And it is through the generosity of local individuals, businesses, and special events that guarantees financial aid to all those in need. Together…we build strong communities!
---
BERNIE'S RUN SPONSORSHIP
Please take a moment to look over the sponsorship needs for this year'd race and help us make Bernie's Run a success!
---
Presented by ALLONE Charities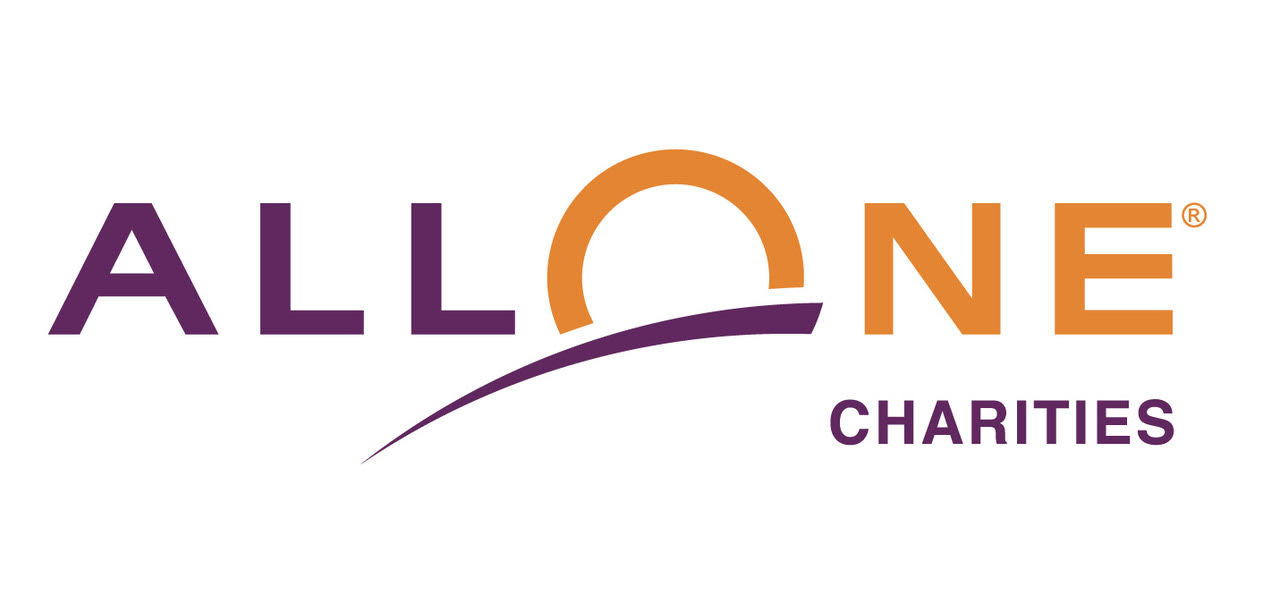 Text Alerts
Text FILLMEIN to 84483 to receive Facility alerts.
Text WBYCW to 84483 to receive Child Watch alerts.
Text OUTDOOREX to 84483 to receive Outdoor Goup Exercise alerts.
Text GROUPEX to 84483 to receive Indoor Group Exercise alerts.
Text YGYMS to 84483 to receive Gym Alerts alerts.
Text YCHILDCARE to 84483 to receive Childcare alerts.
Text WBFAM to 84483 to receive Youth and Family Programming alerts.
Text WBKIDS to 84483 to receive School Age Child Care alerts.
Text YTEEN to 84483 to receive Teen Programming alerts.
Text YMCAOFF to 84483 to receive Summer O.F.F. alerts.
Text YCKDAY to 84483 to receive Day Camp alerts.
Text YCKOVERNIGHT to 84483 to receive Overnight Camp alerts.
Text YCKFAMILIES to 84483 to receive YCK Families alerts.
Text POOLALERTS to 84483 to receive Mericle Pool alerts.
Text WBYST to 84483 to receive WBY Swim Team alerts.