MASTERS SWIM
The primary goal of Masters at the Wilkes-Barre YMCA is helping each member reach their personal swimming goals. This may be learning all four strokes, incorporating lap swimming into your workouts, or training for your first long distance swim. Through on deck coaching, and the camaraderie of a team, adult swimmers will learn new skills and gain confidence in their unique swimming abilities.
Registration for Masters will allow access to one, two, or all three weekly practices. These practices will be held for 90 minutes and will be flexible to the additional time constraints of members.
Pre-designed workouts will be provided and members will be grouped together by swimming experience and goals. For example, a workout may include a warm up, swimming drills, endurance or speed work, technical skills (flip turns, starts, finishes), and cool downs.
US Masters Swimming is also a national organization that hosts district, state, and national championship meets. The opportunity to compete in local competitions to qualify for these championships will be available, but is not required for all WB YMCA Masters swimmers. For more information visit www.usms.org
If you have any additional questions, please contact Andrea Butchko andrea.butchko@wbymca.org.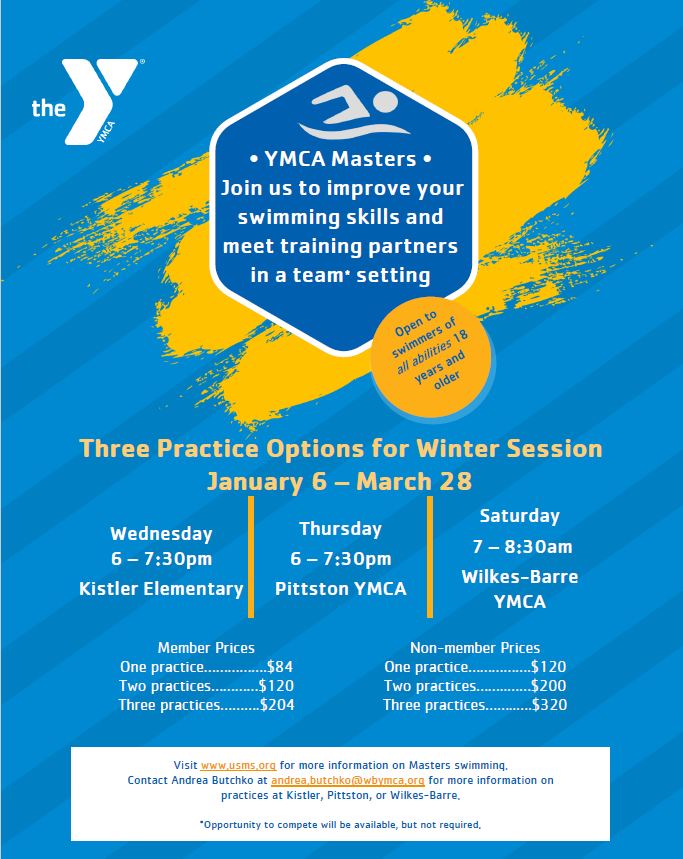 Text Alerts
Text FILLMEIN to 84483 to receive Facility alerts.
Text WBYCW to 84483 to receive Child Watch alerts.
Text OUTDOOREX to 84483 to receive Outdoor Goup Exercise alerts.
Text GROUPEX to 84483 to receive Indoor Group Exercise alerts.
Text YGYMS to 84483 to receive Gym Alerts alerts.
Text YCHILDCARE to 84483 to receive Childcare alerts.
Text WBFAM to 84483 to receive Youth and Family Programming alerts.
Text WBKIDS to 84483 to receive School Age Child Care alerts.
Text YTEEN to 84483 to receive Teen Programming alerts.
Text YMCAOFF to 84483 to receive Summer O.F.F. alerts.
Text YCKDAY to 84483 to receive Day Camp alerts.
Text YCKOVERNIGHT to 84483 to receive Overnight Camp alerts.
Text YCKFAMILIES to 84483 to receive YCK Families alerts.
Text POOLALERTS to 84483 to receive Mericle Pool alerts.
Text WBYST to 84483 to receive WBY Swim Team alerts.